iPhone Rip
With 4Easysoft iPhone Rip, you can deal with iPhone files at easy. This iPhone Ripper assists you to rip iPhone video to Computer, copy video from iPhone to PC for any unexpected occasions.
In 4Easysoft iPhone Rip, there are additional functions to manage your files on iPhone, it can recognize your iPhone info the same as iTunes. You also can browse your iPhone library ( such as Genre, Artist, Album) quickly. What is to worth mentioning is that this iPhone Rip is applied to iPod as well.
Screen Shot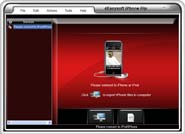 Features of iPhone Rip
1. Rip iPhone video to Computer
It is convenient to backup iPhone videos to your computer directly.
2. Copy audio from iPod to PC
Easy to copy iPhone songs to Computer without the iTunes.
3. Tell detailed info automatically
4Easysoft iPhone Rip can recognizespecific information on your devices , such as iPhone type, iPhone capacity, iPhone version, serial number, format, and the available space , used space and more. If you connect your iPhone, these infos will appear at once.
4. Quick search
Quickly browse your iPhone library by checking "Search", including the Genre, Artist, Album info.
5. Fast rip speed
The fastest rip speed is available to copy your iPod file to Computer.
6. Friendly user interface
An intuitively designed user interface guide you how to rip iPhone easily and fast.