iPod Manager
4Easysoft iPod Manager integrates three functions: act as iPod to iPod manager, iPod to PC manager and PC to iPod manager. Specifically speaking, it can manage video/musicfiles between two iPods, copy iPod files to Computer directly, and import local files to iPod without iTunes or other software.
Particularly, there are added functions of this 4Easysoft iPod Manager, like recognize iPod info, create new playlist or rename it, remove it, search or track iPod filter ( the Genre, Artist, Album and more). It applies to iPhone OS 3.0, iPod Firmware 3.0 as well.
iPod Manager Introduction
Screen Shot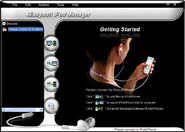 Features of iPod Manager
1. iPod to PC Manager
Able to copy iPod files to PC for the backup of your iPod.
2. PC to iPod Manager
Help you to import files from computer to iPod without the help of iTunes
3. iPod to iPod Manager
Copy files from one iPod to another at ease. You only need to connect the two iPods, then share your videos/audios with your friends enjoyfully.
4. Quick search
Quickly browse your iPod library by checking "Search", including the Genre, Artist, Album info.
5. Tell information
Once you connect your iPod, 4Easysoft iPod Manager can recognize your iPod/iPhone specific information, such as iPod type, iPod capacity, iPod version, serial number, format, and the available space , used space in your iPod.
6. Create playlist and edit it
It provides you the function to create new playlist and drag your iPod video/audio to it. Also you can remove the existing playlist or rename it.